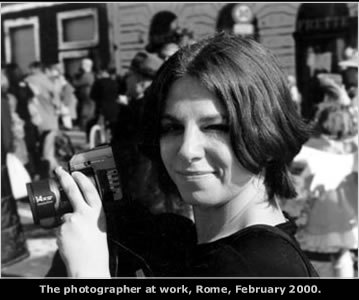 - Curious
- Passionate
- Dreamer
- Beauty lover
- Idealist
Those could be five words that could define me.
- Curiosity is said to be a nasty fault. Not to me, during my journalism years, I learnt it was a requirement. Curiosity is not also helpful in "digging news", it also maintains a brain active by keeping it open to anything new and constantly intrigued.
- Passion is the fuel of life, gives you a boost and then, everything seems possible.
- Dreaming is essential to life, not only while you sleep but also because it opens one of the path to creativity. Your dream is what you want to achieve.
- Beauty is all around, in every corner of everyday life, a sun ray filtering through a window, a meal carefully prepared, the feeling of confidence when you put on a new outfit, the feelings a great book may inspire, a smile in a crowded train at rush hour, a flower born in the crack of a sidewalk.
- Idealism is standing for what you believe is right and living by it accordingly. It is also the driving force for making things better not only for you, but above all, for the generations to come.
- Curiosity brought me to journalism because I always wanted to know everything on everything before everyone. I tested every media and written press, radio and photojournalism got my special attention. I began photojournalism at the Institut des Hautes Etudes des Communications Sociales, the oldest communication school in Belgium. I was not very good at it, to my great disappointment. But I loved it so much I worked twice as hard and turned out to be a decent photographer after all, I just needed more training. Curiosity is behind the fact I am not focusing in "special fields", I have "predilection themes" like "social photography", "travel photography" or "events photography" but I hate limitations and you can see in this portfolio that I'm not shy at photographing sporting events. I also learned design after being merely curious about how Pagemaker was working. I discovered I really enjoyed it and after my training in college, I decided to carry on learning new techniques by myself. When my college was finally hooked up to the Internet, I was the first person to try it and also the first student of the school to have her internship at a online-magazine. Curiosity also drove me towards political science after my journalism degree and I completed my BA at the Université Libre de Bruxelles and spend my last year abroad, in Italy at the Università di Roma 3, thanks the European Union-sponsored Erasmus Program.
- If you are not passionate about what you are doing, you can burn out pretty fast, I was lucky to know what turned me on and I am not near running out of fuel.
- Dreaming is having a vision of what one person wants to do. A vision of what a web site may look like, of a magazine cover, of what the picture you just took will look like. I am the one with the idea and, from an artistic point of view, web and graphic design tools helps it make it happen.
- I photograph what I find beautiful or appealing. I can also photograph the opposite of beauty in a beautiful way because the opposite of beauty also provoke a reaction. Harmony or the absence of harmony provokes a strong reaction, the more appropriate when you're trying to catch someone's attention.
- Idealism because as a journalist, a photographer and political scientist, I believe my role is to inform and get people concerned about important issues. It happens that images have a higher impact than words but I love words, that is why TV is not my medium of choice (too little time to explain an issue), if you have a good article and a good picture, you have won. Your reader now knows, the rest is up to him.
Mélissa
Statistics for this site avalaible here :